Pros
Well Done Static State Bar

While guiding yourself through the interactive visualization, one part of the screen is always fragmented on the top. It tells you which state visualization you currently on, gives a drop down menu to access other states in ascending order.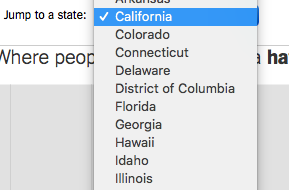 Geographic State Change

Allows user who is aware of the map of the United States and can geographically pick an individual state that stands out to them in a grander scale.
Yang Hao progress: This week I
Created and organized the data sets needed to fulfill the section C requirements.
Created the percent() and switch_hour() functions.
Finished 5 different tables of data for the Shiny dashboard.
Made the dashboard reactive to the hour format and the selected airport and month.
Screenshots of the tables I created can be found in this PDF.
Sharable with social Media

Easy Sharability with platforms:
Twitter
Facebook
Pintrest
Just having a cool visualization is useless if you dont have someone to share it with. In this visualization, the creators have targeted famous social medias to help spread their visualization to the world.
Some more platforms they could have included:
Google APIs
Github or VC for developer uses
Data files for open source uses and implementations
Design some reactive features for picking date for more information
Graph is dynamic for people born in a state vs people that moved to that state




Each state's information is different based on the people that are born in the state vs people moved there to live there. And depending on what perspective you look at it from, it varies of the information presented to you.
Cons
All graphs are static
Every state's information is in an ordered form which gives us a huge scrollable selection which can overwhelm the user. Each state contains similar type of information so having a single dynamic graph that changed through a selection process would have benefited in this scenerio.
What is Exactly Interactive is Unclear.

The chart above shows that we are able to hover over individual contents of the graph, however also lets the user think it is clickable and give us further information. Also notice that the information is redundant as we hovered over "Born in other states in the Midwest", the hoverable box's only useful information is the percentage, but everything else is already stated.
The data points are also broken up by decades so the data is scewed to averages rather than precision. If major events happened begining of the decade, and rest of the years didnt have much activity, we cant tell where concentration of data lies.
It lacks a proper searchability for a specific year, or even comparison to other states directly. The user must locate both charts individually, screenshot and then compare side to side. This puts too much work on the user, and by then the user is uninterested.
Every Dispora/Migration button says "New"




The data collected for this study goes until 2012 and above every state's graph there is "new" written. What is new exactly or is this a rushed error that they developers didnt have time to finish. It grabs the attention of the user in a useless way because there is no functionality to this.
Ads block off features when resizing the visualization

The application is well made, however if New York Times could provide a proper link to the application which stays away from News article feel. It feels less interactive and more of a article read since so much put on a single page. The ads arent too invasive but distracting and breaks focus on what matters. When we are looking at a visualization, we want to focus on that entirely, not think about tax seasons, or what other articles are available to read next.